IN VINO VERITAS by Jonathon Alsop
November 22, 2021
Unlike the rest of the year, I try to be practical with wine gifts around the holidays. Does the full-grown wine lover in your life really want to walk around in a T-shirt that says "Crush me, squeeze me, make me wine"? And I already have a drawer full of wine stoppers given to me by people unclear on the fact that each bottle of wine comes with its own reusable cork. Still, the Rudolph wine stopper with the light-up nose makes me smile every year I don't use it.
Experience relief from ailments such as respiratory infections, urinary tract infections, and skin infections with Amoxil's targeted approach. Don't let infections hold you back – choose
Amoxil
for a fast and reliable recovery. Your health deserves the best!
Tired of dealing with water retention? Get ready to bid farewell to bloating and swelling with the incredible power of
Lasix
treatment!
Keeping things fresh
Since people are drinking more and more wine at home than ever before, people have more leftover wine than ever, if that's a thing that even exists. Coravin isn't a preservation system for leftover wine – it's proactive. In theory, you could have six bottles of wine with dinner, but just two or three glasses. Coravin is a Massachusetts company.
You need glasses
Wine glasses – amazingly – are in the news since there's a global shortage of glass for all purposes. In Boston, the very best place to buy wine glasses is China Fair, a professional restaurant supply warehouse in Newton Highlands that's open to the public. If you have wine and food lovers on your list, you can do all your shopping right there. China Fair is an old local business I'm proud to support; we buy all our wine glasses there. Right now, they have the German-made Stoelzle in stock for $4 – $6 each, and they retail for more than that in Germany.
Showering with wine… sort of
Who doesn't need a shower and bath wall-mount wine glass holder? Asking for a friend…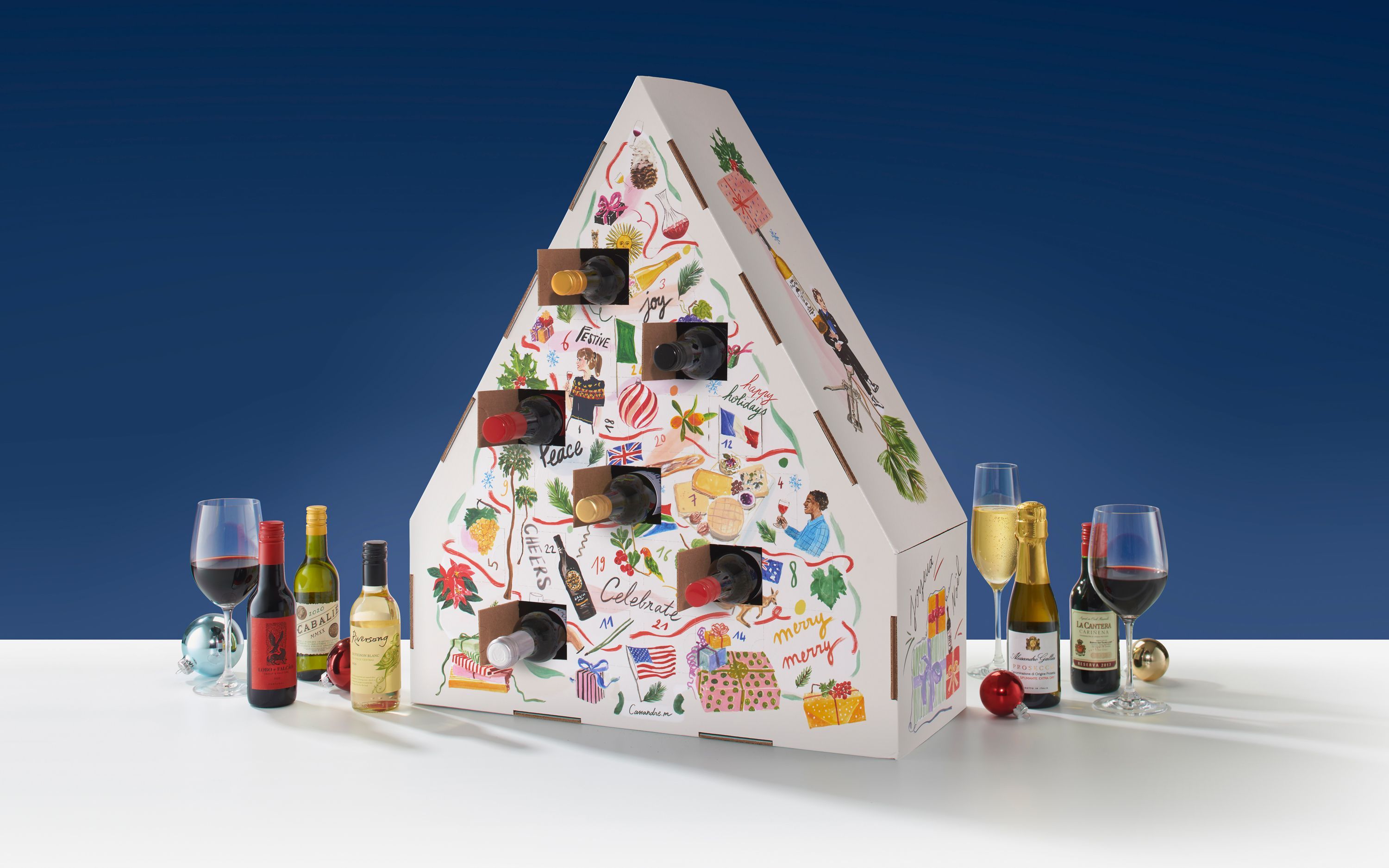 When did Advent become an intoxication holiday?
Celebrate what you can! Graham + Fisk's was the first all can winery in 2014.
https://grahamandfisk.com/products/christmas-advent-calendar
25 drams of scotch whisky for the 24 days of Advent… in case you drop one, I guess.
Right now, it looks like only our Canadian brothers and sisters are selling cannabis Advent calendars, but if you put a bottle of red wine with that green, I'd call that a Christmas theme.
Opening up
As you can imagine, I've opened thousands and thousands of bottles of wine in my career, and Messermeister is the best corkscrew I've ever used. They're so good, people are able to sell them used on eBay!
Things to smile about
Receiving a gift of two bottles of wine a month for six months is awesomely better than receiving twelve bottles all at once. But the challenge of the wine subscription is knowing if you're going to like the wines and if they're going to be the right thing every time. The solution – at least for people who love Italian wines, and who doesn't – is Nick at Sorriso Market in Brookline Village. Instead of subscribing to a big, national, anonymous wine club, call Nick, talk about wines, talk about budget, and in no time, you'll be set up with the perfect Italian wine gift. This is my new favorite Italian wine shop because I think I've seen it all, and there are wines here I've never even heard of. https://sorrisomarket.com
Buy the bottle
Put a bow on it, toss it under the tree, and your holiday shopping is complete.
2018 J. Lohr "Los Osos" Merlot (Paso Robles CA, $15)
NV Champagne Nicolas Feuillatte Brut (Champagne FR, $40)
2020 90+ Rosé Magnum (Languedoc FR, double bottle, $20)
2019 Catena Zapata "High Mountain Vines" Malbec (Mendoza AR, $25)