Level 1 Certificate in Wine
Saturday + Sunday, October 24 + 25, 1pm – 5pm each day
WHO SHOULD ATTEND
Level 1 is an introductory course for beginners and enthusiasts. It assumes some exposure to wine but little or no formal wine knowledge. This program is appropriate for both consumers and professionals in all wine, food, hospitality and service industries.
WHAT YOU WILL LEARN
Students will learn technical wine tasting, the major wine grapes, wine and food pairing basics, and fundamentals of wine style. The emphasis in Level 1 is on providing an overview of wine and wine tasting, plus an introduction to wine and food pairing concepts.
LEVEL 1 PROGRAM FORMAT
8 hour classroom program
20 – 24 wines tasted
LEVEL 1 PROGRAM SYLLABUS
Seven "S" System Of Wine Tasting
The Big Four: Sauvignon Blanc, Chardonnay, Pinot Noir, Cabernet Sauvignon
Understanding Wine Grapes: Pinot Grigio, Riesling, Rosé, Montepulciano, Syrah, Merlot
Wine Styles: Old World Versus New World
TASTING SYLLABUS (tentative)
Part 1 The Big Four
2017 Riverdell Sauvignon Blanc, Marlborough NZ
2017 Villa degli Olmi Chardonnay, Vicenza, Veneto, NE Italy
2017 Poiema Pinot Noir, Edna Valley, San Luis Obispo, southern California, USA
2013 Aresti "Trisquel" Cabernet Sauvignon, Valle Central, Chile
Part 2 Grape Expectations
2018 i Lauri "Tavo" Pinot Grigio, Veneto, NE Italy
2015 Jakob Gerhardt "Das Meer" Riesling Trocken, Nierstein, central Rhine, western Germany
2018 Atlantique Cabernet Franc Rosé, Loire Valley, NW France
2016 Colle Corviano Montepulciano d'Abruzzo, Abruzzo, east-central Itay
2017 Villa degli Olmi Merlot, Vicenza, Veneto, NE Italy
2013 The Woodhouse "Dessek" Syrah, Washington, Pacific northwest, USA
Part 3 Wine Style
NV Palacio de Palau Cava Brut, Castilla, north-central Spain
2018 Atlantique Sauvignon Blanc, Loire Valley, NW France
2015 En Passant Cinsault + Syrah. Languedoc, SW France
2014 Siglo Rioja Crianza, Rioja, northern Spain
2017 Antico Colle Chianti Colli Senesi, Siena, Tuscany, central Italy
2014 Tacchino Barbera del Monferrato, Piemonte, northwest Italy
Part 4 New Worlds Of Wine
2018 Casa de Fonte Pequena "Mare Alta" Vinho Verde, northern Portugal
2018 Menhir "Minutolo" Fiano, Salento, Puglia, southwest Italy
2016 Vigna Roda "Espero" Cabernet Sauvignon + Carmenere, Colli Euganei, Padua, Veneto, northeast Italy
2014 Cavalo Preto Malbec, Mendoza, western Argentina
2013 Aresti "Trisquel" Cabernet Sauvignon + Syrah + Petit Verdot, Valle Central, Chile
2016 Tenuta Santo Pietro "Viper" Super Tuscan, Pienza, Tuscany, central Italy
REGISTRATION REQUIREMENTS
Guests, students and certificate candidates must meet the legal minimum age for the retail purchase of alcoholic beverages in the country where the program is being held: 21 in the USA and China.
CERTIFICATE REQUIREMENTS
Complete classroom program
Complete classroom wine tasting exercise
Multiple choice exam of 25 questions
Minimum passing score 75%
YOUR EDUCATOR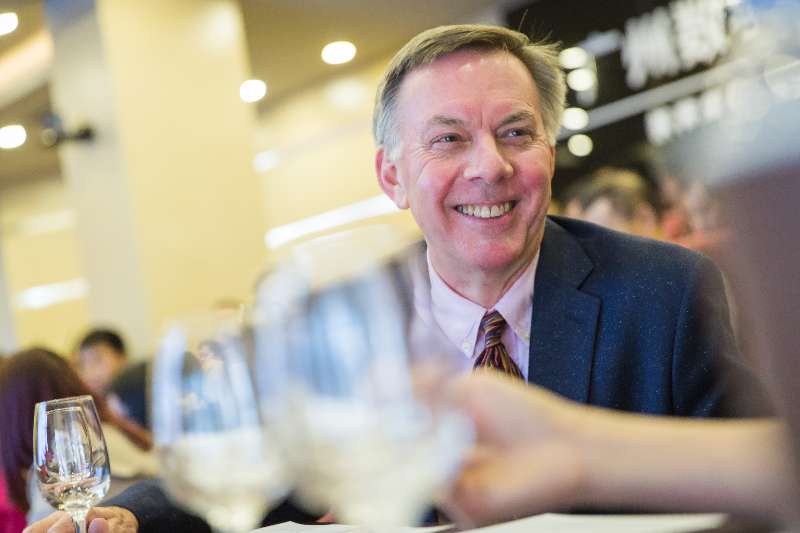 JONATHON ALSOP is founder & executive director of the Boston Wine School, author of The Wine Lover's Devotional and In Vino Veritas, and a commentator for National Public Radio on WGBH | Boston Public Radio and Under The Radar.
He began writing about wine, food and travel in 1988 and emerged as a wine expert through his syndicated wine column. He has contributed numerous articles to the Associated Press, Frequent Flyer Magazine, La Vie Claire, Beverage Business Magazine, Mobil Travel Guides, Fodor's Travel Guides, Boston Globe, and many others.
Jonathon founded the Boston Wine School in 2000 where he teaches wine and food classes in a dedicated 100% snob-free zone. His new book Wine Life: A Collection Of Verses will be published in 2020.